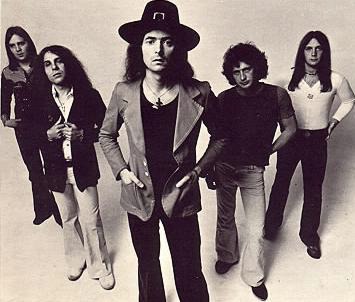 RAINBOW BIOGRAPHY


Rainbow were a British hard rock band formed by Deep Purple founder and former guitarist Ritchie Blackmore in 1975. In addition to Blackmore, the band originally consisted of former Elf lead singer Ronnie James Dio, bassist Craig Gruber, drummer Gary Driscoll, and keyboardist Micky Lee Soule. Over the years Rainbow went through many lineup changes.

The Dio Years

The name of the band Rainbow was inspired by a Hollywood Bar and Grill called the Rainbow that catered to rock stars, groupies and rock enthusiasts. It was here that Ritchie spent some of his off time from Deep Purple and met Dio, whose band Elf had toured regularly as an opening act for Deep Purple. Rainbow's debut album, Ritchie Blackmore's Rainbow, was released in 1975 and featured the minor hit Man on the Silver Mountain.

Rainbow's music was different from Deep Purple's. The music was more directly inspired by Classical music and Dio wrote lyrics about medieval themes. Dio possessed a versatile vocal range capable to sing both hard rock and lighter ballads. Although Dio never played a musical instrument on any Rainbow album, he is credited with writing and arranging the music with Blackmore in addition to writing all the lyrics himself.

Blackmore fired everybody except Dio shortly after the album was recorded and recruited drummer Cozy Powell (formerly of the Jeff Beck Group), bassist Jimmy Bain and keyboard player Tony Carey. This lineup went on to record the album Rising.

For the next album, Long Live Rock 'N' Roll, Blackmore kept Powell and Dio and replaced the rest of the band. Blackmore had difficulty finding a bass player for this record so he played bass on all but three songs on this album (Gates of Babylon, Kill the King, and Sensitive To Light). After the release and supporting tour, Ronnie James Dio left Rainbow. He would go to replace Ozzy Osbourne as the lead singer in Black Sabbath and later form his own band Dio.

Commercial Success

Blackmore continued with Rainbow, replacing Dio with ex-Marbles vocalist Graham Bonnet. Powell stayed and was joined by former Deep Purple bassist Roger Glover and keyboardist Don Airey. The first album from the new lineup, Down To Earth, featured the bands first chart successes, 'All Night Long' and 'Since You Been Gone'. On stage Bonnet possessed a powerful voice, but struggled with the band's quieter numbers and lacked Dio's range.[citation needed] In 1980, the band headlined the inaugural Monsters of Rock festival at Castle Donington in England. This would be Powell's final performance with Rainbow. He would go on to play for Michael Schenker, Whitesnake and Black Sabbath.

The next album saw yet another line-up change as Bonnet and Powell were replaced by Joe Lynn Turner, and Bobby Rondinelli respectively. The title track from the album, Difficult to Cure, was a version of Beethoven's Ninth Symphony. The album also contained the guitar piece, Maybe Next Time. The Difficult to Cure tour was the first tour in which Rainbow headlined in the U.S.

Rainbow's next studio album was Straight Between the Eyes. The band added a new keyboardist, David Rosenthal, The album was more cohesive than Difficult to Cure and had more success in the United States. The band, however, was alienating some of its earlier fans with its more AOR sound.[citation needed] The single, Stone Cold, was a ballad and had some chart success. The successful supporting tour skipped the UK completely and focused on the American market.

Bent Out of Shape saw drummer Rondinelli fired in favor of Chuck Burgi. The album featured the single Street Of Dreams. The song's video was banned by MTV for its supposedly controversial hypnotic video clip.[1] The resulting tour saw Rainbow return to UK and also to Japan where the band performed with a full orchestra.

Hiatus and regroup

By the mid-1980s, Blackmore and Glover had reformed the Deep Purple "Mark II" lineup and Rainbow was disbanded. A final Rainbow album, Finyl Vinyl, was patched together from live tracks and "b" sides of singles. The album contained the instrumental Weiss Heim widely available for the first time.

Blackmore left Deep Purple in 1993 and formed a new Ritchie Blackmore's Rainbow. The band released Stranger in Us All in 1995 and embarked on a lengthy world tour.

The tour proved very successful and a show in Germany was professionally filmed by 'Rockpalast'. It has never officially been released, but has been heavily bootleged (and considered by many collectors to be the best Rainbow bootleg of the era). The live shows featured frequent changes in set lists and musical improvisations that proved popular with bootleggers and many shows are still traded over a decade later.

However, fed up with stadium rock, Blackmore turned his attention to Rennaisance and medieval music, a lifelong interest of his. Rainbow was put on hold once again and played its final concert in Esbjerg, Denmark in 1997. Blackmore, together with his partner Candice Night as vocalist, then formed the renaissance-influenced Blackmore's Night.



RAINBOW GENRES
70s Hard Rock, Heavy Metal (early), AOR (later)

RAINBOW LYRICAL THEMES
Early: Fantasy, Rock Late: Relationships, Partying

RAINBOW ORIGIN
United Kingdom (London), formed in 1975

RAINBOW CURRENT RECORD LABEL
BMG

RAINBOW STATUS
Split-up

RAINBOW CURRENT LINE-UP
Dougie White - Vocals (Yngwie J. Malmsteen, Cornerstone, ex-Balance of Power, ex-Pink Cream 69, ex-Praying Mantis)
Ritchie Blackmore - Guitars (ex-Deep Purple, Blackmore's Night)
Greg Smith - Bass (Americade, The Plasmatics, Van Helsing's Curse)
Paul Morris - Keyboards (Chris Caffery, Doctor Butcher, ex-Doro)
John O. Reilly - Drums (C.P.R.)

RAINBOW PREVIOUS LINE-UP
Vocals:
Ronnie James Dio (ex-Black Sabbath, Munetaka Higuchi (Guest), Hear 'n Aid, Heaven And Hell (UK), Elf) (1975-1978)
Graham Bonnet (Taz Taylor Band, ex-Impellitteri, ex-Alcatrazz, ex-Anthem (Jpn), ex-Michael Schenker Group, Blackthorne, The Marbles) (1979-1980)
Joe Lynn Turner (ex-Deep Purple, ex-Cem Köksal, ex-Yngwie J. Malmsteen) (1980-1984)

Bass:
Craig Gruber (Jack Starr, The Rods) (1975)
Jimmy Bain (ex-Dio, WWIII) (1975-1977)
Mark Clarke (1977)
Bob Daisley (Ozzy Osbourne, ex-Black Sabbath, Yngwie J. Malmsteen , Planet Alliance, Dio, guest for Jorge Salan, Stream (US)) Gary Moore, Uriah Heep, Mother's Army, Living Loud) (1977-1978)
Roger Glover (Deep Purple) (1978-1984)

Drums:
Gary Driscoll (1975) (R.I.P 1987, murdered) (ex-Thrasher (US), ex-Jack Starr)
Cozy Powell (R.I.P. 05. April 1998) (Glenn Tipton, Yngwie J. Malmsteen, Black Sabbath, Tony Martin, Emerson, Lake & Powell, Graham Bonnet, Michael Schenker Group, Whitesnake) (1975-1980)
Bobby Rondinelli (Sun Red Sun, ex-Doro, ex-Black Sabbath, ex-Scorpions, guest, ex-Riot, ex-Quiet Riot, Blue Öyster Cult, Warlock (Ger), The Lizards) (1980-1983)
Chuck Bürgi (1983-1984, on tour in 1995)

Keyboards:
Mickey Lee Soule (1975)
Tony Carey (1975-1977)
David Stone (1977-1978) (Le Mans)
Don Airey (ex-Alaska (UK), ex-Anthem (Jpn), Crossbones (Guest), ex-Black Sabbath, ex-Divlje Jagode, Empire (Ger), ex-Iommi, ex-Glenn Tipton, ex-Judas Priest, ex-Ozzy Osbourne, ex-Sinner (Ger), The Cage, Deep Purple) (1978-1981)
David Rosenthal (Hammerhead (Hol), Vinnie Moore, ex-Yngwie J. Malmsteen, Whitesnake) (1981-1986)


Guest: Candice Night (Blackmore's Night) - backing vocals on "Stranger in us All"